The Tourism, Hospitality and Resort Management program has been designed to simulate a college curriculum.  Students take cornerstone courses their freshman and sophomore years which give them essential skills and an overview in the Tourism, Hospitality and Resort Management area through guest speakers, field trips, and the use of technology.  Participation in Future Business Leaders of America (FBLA) and R.O.P.E.S. leadership training helps magnet students enhance their skills in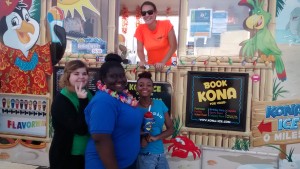 communication, problem solving, teamwork and computer technology.
Students then specialize with higher level courses during their junior and senior years.  This leads to eligibility for the Bright Futures Scholarship Program and a paid internship at a local business where students can apply the knowledge they learned in class in a real world environment.  Students also volunteer at local elementary and middle schools through teaching Junior Achievement programs and specialized reading programs.  This integration of curriculum prepares students for top universities while giving them experiences they can build on their whole lives.  Articulation agreements with leading Florida colleges and universities offer college credit for outstanding academic performance in tourism classes.
We are a part of the NAF network of over 630 schools nationally.
You can begin now to prepare to be a professional in a multi-trillion dollar worldwide industry that is already the largest in Florida and will soon be the world's largest employer.  You can take advantage of a program that integrates unique high school courses with practical work experience in the field, all while preparing you for college.
Highlights include the following:
Learning about cultures and destinations worldwide
Field trips to such places as New York City,Miami Beach,Norton Museum of Art, and the Port of Palm Beach.
Paid executive internships at such places as the Palm Beach Gardens Marriott, PGA National Resort, The Breakers Hotel, and the Jupiter Beach Resort.
Communication and support from local professionals from organizations such as the Palm Beach County Hotel & Lodging Association, and the Palm Beach County Convention and Visitors Bureau
Freshman Student Mentoring Program
Teaching Junior Achievement courses at local elementary schools
There are an incredible number of opportunities in the world's largest industry! These include management and promotion of hotels and resorts, airlines and cruise lines, five star restaurants and catering services, convention centers, theme parks, yacht marinas, ski chalets, and other industries. With 43 million visitors last year,Floridacontinues to be a travel destination for many people around the world. You can be part of this exciting industry!